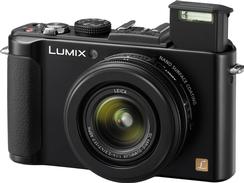 Panasonic DMC-LX7
Image Source: http://www.huntsphotoandvideo.com/detail_page.cfm?ProductID=DMCLX7K&mfg=Panasonic&show=yes
First off, I have no connection to Hunt's Photo. However, they have an incredible deal on the Lumix DMC-LX7 today. Get it quick!
(Click Here)
to go to Hunt's for the LX7 at $299 (regularly ~$499)!
This is an awesome little camera. I have the previous version, the DMC-LX5. It's an amazing street shooter, with raw file capability, a fast lens, and quick response. The LX7 has an even faster f1.4 lens.
I am sorely tempted by this deal, and would go for it if it didn't mean buying a new electronic viewfinder (it's different from the one on the LX5) and spare batteries. The truth is, I'm happy with the LX5, so it's not worth the upgrade for me. If I didn't have the LX5, I'd jump on this in an instant.
DMC-365.blogspot.com
If you buy one, please get your finder (LVF-2) and extra batteries through the link below: